Bondi Beach Surf Adventures
Before coming to Australia, I imagined it as a country of bleached blonde surfer dudes and dudettes all "hanging ten" on warm, sunny beaches year-round. (I'm writing this from a cold and rainy Melbourne… so I've had my introduction to reality, thank-you-very-much.) Nonetheless, I thought a surf lesson or two would be a good idea, just in case I did happen to stumble upon those cute surfer dudes I'd heard so much about. 
Suiting Up
In August, a couple of my best friends from Texas met me in Sydney for a whirlwind, one-week trip and we signed up for a 2-hour surf lesson on Bondi Beach. (If you're visiting for a short time and want to make the most of your trip, check out our itinerary.) None of us had ever attempted surfing before, so we were a mixture of excitement and nerves as we met our instructor at the Let's Go Surfing shop for a truly Aussie surf adventure. Our minds were put to rest, though, when the friendly staff greeted us and helped us get outfitted in our surfing gear.  It's an all inclusive experience, so as long as you have a swimsuit and towel, Let's Go Surfing will provide the rest. Don your wetsuit, sunscreen and zinc and head off to the beach!
Feeling goofy?
The surf school has a locker on the beach for surfboards… so there's no unnecessary long-distance surf board carrying, ensuring that all your energy is focused on what you're here for. Once we'd each received a surfboard (giant-sized to maximize the possibility of staying on it), we were separated into groups and met our instructors. We learned terminology and safety first— finding out whether we are goofy and learning to identify the rip current. If you're not yet fluent in surfer lingo, goofy-footed refers to a surfer who surfs with their right foot forward. If you surf with your left foot forward, you're natural-footed. And the rip current is a strong current of water flowing away from the surf. It's important to know how to identify it, because they can be quite dangerous, sweeping swimmers out to sea. We practiced our techniques for paddling and standing up on surfboards on the sand and once we gained a little confidence, we headed for the waves.
Local Knowledge
Nigel, our instructor, has been surfing for most of his life and even pointed out the home he grew up in— right near Bondi Beach. Great for surfing… not so much for attending school, as he recounted many "sick days" spent on a surfboard. His passion for the sport and experiences with trial and error learning when he was younger makes him a great teacher. With no more than 5 students per lesson, instructors are able to treat each student as an individual, offering personalised tips and tricks. With Nigel's help, I stood up on my first try. And with his encouragement and personalised suggestions, each time I caught a wave, I gained confidence.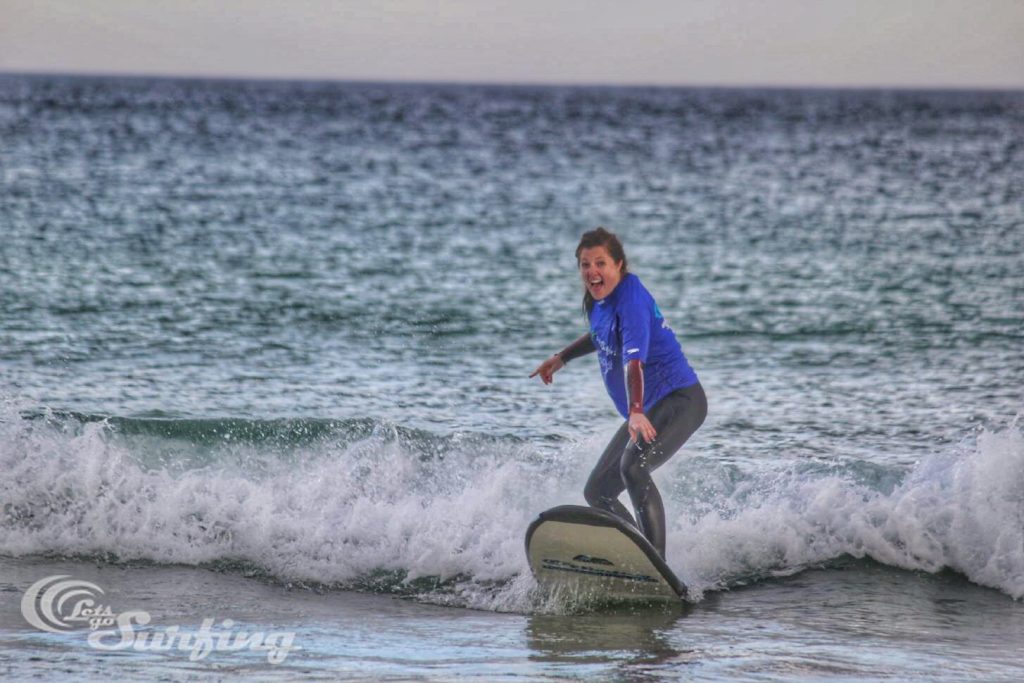 The two hour lesson flew by as we paddled, caught waves and posed for the Let's Go Surfing photographer. Before we knew it, it was time to hand back our surfboards and collect our belongings from the shop. We also had the opportunity to purchase photos… and of course we did! Everyone should have proof of their newfound surfer dude (or dudette) status for social media purposes!
A swell time
At $110, Let's Go Surfing is on the more expensive side of the Aussie surf adventures spectrum, but I promise it's 100% worth it. I took two other surf lessons as I traveled up the east coast, which would have turned me off to the sport if Let's Go Surfing hadn't instilled confidence and a love for the sport in me. One lesson was spent getting beat up by the ocean after spending a good portion of our time moving to a different location to get away from "big fish" (sharks). The other was spent getting fed into a surf school machine (efficient, but not too friendly). It really is true that you get what you pay for.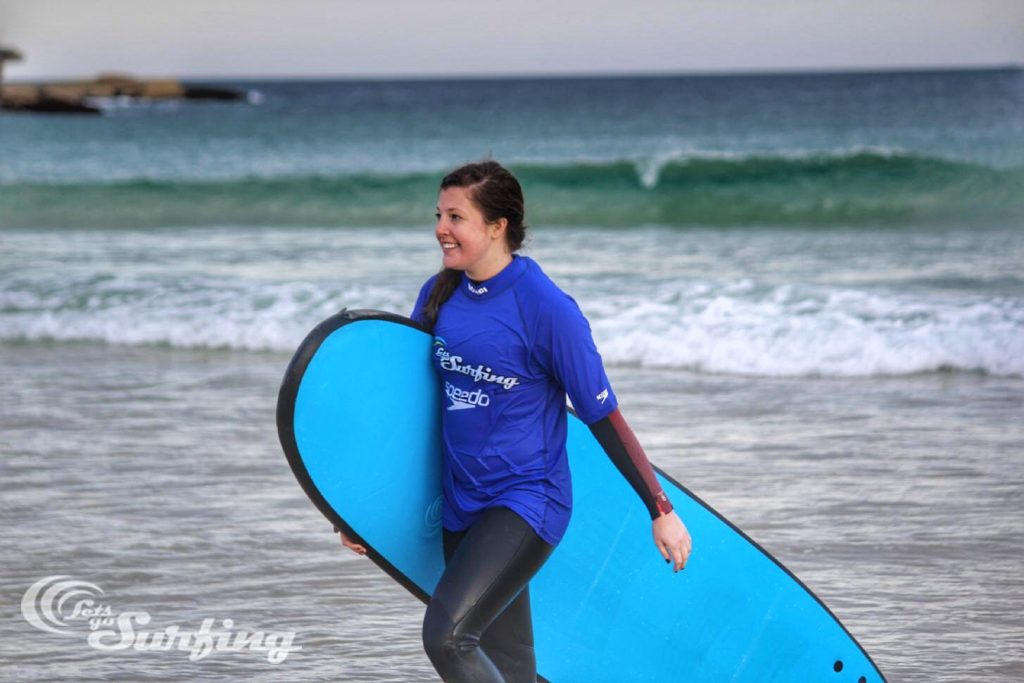 Let's Go Surfing's mission is to change lives one wave at a time, and they're succeeding! The waves that day were small, but my friends and I left feeling as though we'd accomplished something huge. We ended our lesson with arms sore from paddling and an all-over exhaustion from a full-body workout. We faced fears of sharks, open water and failure and came out with smiles, excited for the next time we'd get to practice our newfound skills during more great surf adventures.
Whether paying our own way or the guest of an operator Travel Scavenger bloggers (including guest bloggers) don't guarantee a positive account of our experience. If we don't like it, we won't recommend it. Simple as. 👍😎